To Be Successful in Real Estate You Often Only Need One Slight Edge.
So... How Successful Can You Be With
TWO Huge Advantages
These 3 guys will tell you (in detail)
how to get Private Money, even in this market.

Shouldn't You Know What They Know?
Once properties stopped appreciating more than 10% a year most "investors" got knocked out.
Then banks piled on and painted ALL investors "persona non grata".
This created two gaps...
GAP #1: An under demand/over supply of property - gone are all the people that would buy and flip making a profit because of crazy appreciation alone.
That makes for MANY very attractive deals. (Advantage #1)
GAP #2: An under supply/over demand of money - bank loans used to be available to virtually anyone. Easily 85% of purchases were made with bank money. That money has vanished.That makes people with money to do deals VERY attractive.
Step Into The Gap
I'm not talking about a clothing store.

Most interested real estate investors recognize the astounding opportunities in the market today. Seasoned pros are convinced these are generational and perhaps multi-generational opportunities.
Where most investors get stuck is $MONEY$
There's another gap...
The stock market has been giddy lately but it wasn't nice a couple years back and many who've gotten burned aren't in the mood to play in that fire pit these days.
Bonds and CDs - secure, yes. But the rate of return is dismally below inflation.
The GAP: people with money (a lot of people)
NEED a low risk, higher rate of return.
(Advantage #2)
THEY are the best source of money today. The opportunity is there, behind the door, that few people know how to open, actually many don't even know it exists. You need them, but they also need you.
Here's The Deal...
I have 3 interviews with seasoned pro's in getting Private Money. Each of them specializes in different property niches. All of them have Private Money to fund all the deals they have time to make. All of them agree this is the best environment for building wealth they've ever seen.

Pull up an ear, access life changing know-how...
Private Money Pro #1: College Degree Not Required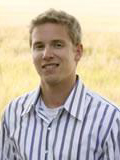 Patrick Riddle stumbled on to Real Estate flipping using hard money during college. His early results were so successful he traded formal classroom education for real-life, on-the-job, real estate investing education. Early on he got into some serious cash-flow trouble using more traditional financing options. Fortunately he was able to fix his liquidity problem with a private money solution.

He's continued on to do over 130 deals raising over $6 million in private money. You could say he got his education (and was paid to get it).

He'll school you on:
Why the end must come before the beginning
The precise three steps to private money on demand
Your best prospects start with...
3 additional groups of people who aren't scared to be your bank (on your terms) and 4 places where they are
Nobody wants sales pressure... the magic no-pressure phrase that's gets you invited to offer your opportunity
Put this 14 word phrase lead generation machine here
This 30 second script - revealed and dissected 26:13 into the conversation - attracts qualified leads like kids to birthday cake
Shut up. When and why
The SEC - they skip over the Bernie Madoff's and go for "the little guy". Never use these 3 words in your advertising and they'll leave you alone, too
Two most common mistakes people make when talking with potential private lenders
"Have you ever done this before?"... even if you haven't here's the 3-part answer to that question that makes them trust you
How to tap into that forgotten pot of IRA money so many people have
5 word-by-word power persuasion phrases... put an end to "I'll think about it" and "No thanks"

"I really enjoyed one of the recent interviews with Patrick Riddle and picked up some instant tips on how to obtain private money to expand my real estate business... and my profits. Thanks guys for doing what you do!"

Alfred Bellezza
Idyllwild, CA


"These were a very Informative set of Interviews. I have listened to each one a couple of times, it's EXTREMELY helpful to have the transcripts, Especially with John Burley (he talks really fast) but he has a ton to offer. With Patrick Riddle's, I highlighted much on his transcript and intend to commit his "what to say" parts to memory. I am very intrigued with John Burley's system regarding charging an upfront fee to Private Money Investors, it makes alot of sense from a business prospective. Alan Cowgill's info was also very informative as to the potential regulatory issues surrounding making contacts with investors, previously unknown to you, specific to getting them interested in loaning money. The insight from all the speakers as to how to structure private money deals was incredible. There was so much info on all these that I plan on listening again and again."

Scott Wineinger
Tucson, AZ

Private Money Pro #2: Get Your Head Straight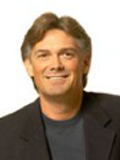 John Burley first retired from active real estate investing at the age of 32. He spent some time creating products, doing seminars with people like Tony Robbins and Donald Trump and writing two international best selling books (Money Secrets of the Rich and Powerful Changes).

But times are just too good now to sit back. He's actively investing again using private money almost exclusively. He has over 300 properties in his portfolio and has done over 1,200 transactions. John has a very keen awareness of the psychology of investing.
Get your head around:
What is the #1 limiting factor for real estate investors... and how to blast through it
How the private money investor thinks... what is the one thing they want most (and how that makes it much easier for you)
How your own self-esteem affects your success
Why you should charge a private money lender $5,000 - $10,000 per deal up front and how to get it (nearly no one does this)
The place to go for your first investor. Where to go for your next investor... and the one after... and the one after...
How to structure a presentation to possible investors - what they need to see and hear to say yes
Fishing for investors... use this magic bait
The simple best way to know a deal isn't worth doing
Investors that relied on appreciation and are dropping out. This is how John stays in business
They pay you to promote your business

"My experience was very positive and I found this to be very informative. I enjoyed the bullet points and brevity of questions and answers. The online prospecting and BNI networking were good tips."

Jerre Fender
Twin Falls, ID

Private Money Pro #3: Let's Do Lunch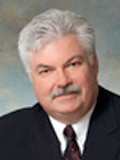 Alan Cowgill went from big corporation middle manager to successful real estate investor, author, consultant and national speaker. Having his back against the wall when he was shut out from banks and squeezed dry by hard money lenders, he stumbled on private money.

In a couple of months he secured over $1 million in private money by inviting groups of targeted prospects to a lunch (and pitch). Today, according to Alan, private money is a phone call away just like ordering a pizza.
Sample the menu:
Let's do lunch strategy... how Alan picks up the check... and millions in private money
Two very successful ways to advertise to the public - legally - to fill your lunch "seminar"
6 topics you need to cover in your investor presentations
What to focus on first to get and keep the interest of potential investors
Advertise to the public...
What is the SEC Regulation - that's easy to comply with but can land you in jail if you ignore it
Don't forget to include this one checkbox in your ad
It's illegal to pay a commission for a referral in all but two states
13 states require you to file a form before taking private money
Why you don't want to take unsecured money
What deal structure is best suited to IRA money

"The private money interview series gives a good, basic understanding of what private money is. Each of the participants describes in detail what private money is and how it differentiates from hard money. They also give unique ways to attract private money to fund your deals...I will definitely send my partners your way so that they too can learn from this awesome series."

Eric S.
San Diego, CA


"With the Private Money Interview set of CD's and transcripts I can listen in the car or on the computer. If there is a concept I need to clarify, the transcripts are available and notes can be made for future reference. Tim keeps the interviews to the point and moving for maximum information in the time frame. From getting started through the advertising, referrals, SEC regulations, and "How To's" are covered by 3 very experienced and successful investors and educators. Nice work. Thank You."

Sid Marquis
Spokane, WA

These strategy and tactic-dense interviews will come to you in a 3-CD set... listen from your computer, your car, your portable mp3 player or wherever.

If you haven't heard my interviews before, let me assure you, they're not the typical light-on-content, heavy-on-pitch "interviews". In fact, there's no pitch at all. They're pause and rewind, detail-dense, real-world lessons.

I carefully prepare for each interview. I probe deep on the important aspects and keep each guest focused and on track. The quality of the content is as good or better than some private seminars.

But it won't cost you seminar prices.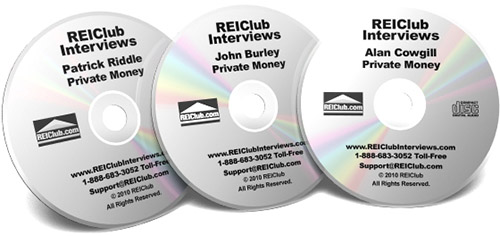 "Private Money Interviews"
100% Ironclad Money Back Guarantee

I"m so confident that you will love this powerful real estate investing information that I"m willing to bear 100% of the risk for the next 30 days. That means that you can get in now plus get all the bonuses RISK FREE and give it a shot for 30 days. If you aren"t happy for any reason simply let us know and I"ll immediately cancel your order and I"ll even let you keep all the bonuses as my way of saying thank you!




Compared to the cost of college... 39.95 bucks won't even buy you a textbook for one class. And you can't find this quality, real-life, money making information in college or in any books at the book store.

"I enjoy listening to the interviews. They all have great information and get me motivated to continue my pursuit as a full-time real estate investor. I enjoy hearing everyone's techniques and theories on what makes the best investors. Being able to print the transcripts and read on the plane is even better."

John O'Connor
Glendale, AZ

But Wait! Let Me Make This Even Easier For You!
Order Right Now And You Receive All These Extra Bonuses...
Yours Absolutely Free!
Complete Transcripts of All Private Money Interviews -
($75 Value)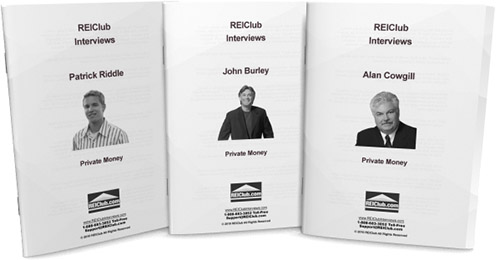 Here's a secret that's guaranteed to give you the mind of a Real Estate genius:

Some people learn best with audio. That's no secret.
Some learn best visually. That's no secret.
But the most powerful way to make something second nature, to fully integrate powerful, profit making ideas into your brain, so you can recall them on command, is to use multiple senses to digest the information..

Was there a part that wasn't quite clear...
Want the EXACT wording of a script or power persuasion phrase...
Want to jump to a part for quick review...

You'll have the transcripts to read over, scan and skip through, study and markup with notes to easily review when you need that clarification or re-introduction.

THAT'S why I went through the extra time and expense of having each interview professionally transcribed...

...because when you're done, you'll have a mind like a steel trap, full of the best money making ideas in Real Estate today!
And...
Interview Nuggets
Focus, they say, is like a laser beam. Each interview has a handful of critical points. I've pulled them out for you and had them printed separately so you can easily grasp and review them at any time.

These little cheat sheets reveal the most important focus points from each expert. Read over them before listening to the interview to prepare your attention and again after the interview to cement those important points in your memory.
And...
FREE Trial Membership in REIClub Pro
You get complete access for one full month to the deepest - and growing - Real Estate Investing library available today. REIClub Pro has over 140 multi-media trainings available on every Real Estate Investment topic imaginable. Plus a full array of forms and resources to guide you through business building and real estate transactions.

I pay your dues for this state-of-the-art wealth building University the first month where you can get a professional education that could mean tens of thousands of dollars for your business!

And if you find out you can't live without it - as so many others feel - you'll simply invest a modest $39.95 per month to keep it coming non-stop. New content is added monthly.

The first month is on me. You can cancel any time, without obligation. But I can't say that many do - this is one of the best values in Real Estate Investing available today!
And...
The Richest Man In Babylon eBook
It's easy to be dazzled by the glitter of the latest shiny new object. This humble book teaches financial wisdom in easy to digest parables. The kind of lessons that can lead you to build true life-changing wealth rather than endlessly chasing instant rich illusions.

What are you waiting for? Grab these expert interviews now and be delighted to see how easy - and stress and risk free - it can be to build your wealth and realize your dream lifestyle.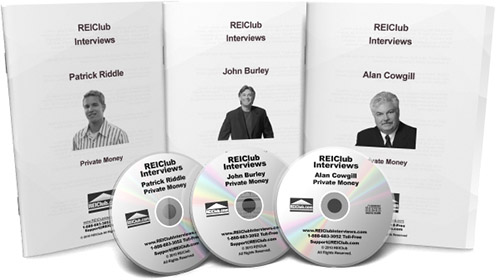 "Private Money Interviews"
Follow the lead of the seasoned pro's.

Good Investing,




P.S. We reserve the right to change or remove this offer at any time. Some 3 CD sets have sold previously at $97. Please note this is the lowest price at which this offer has ever been available and we make no promises this price will be available the next time you return.
Yes, I Want These Interviews Now

"The REIClub private money interviews are an invaluable tool for anyone looking to ramp up their ability to acquire investment properties. I have long struggled with the inner battle of wanting to become an investor, but not having the funds to make the deals. My eyes have now been opened to a variety of easy, straight-forward, and practical ways to acquire money for my deals with little or no red tape and on terms that I get to set.

The interviews serve as step-by-step guides for the entire process, from finding the people to ask, to getting them to commit the money, to creating recurring lenders and referrals. Each of the interviews goes into details of how these three very successful individuals are doing their deals right now. There are no vague generalities that you have to try to apply in your local setting. This is the real deal of how to find private money and make your deals happen.

Each interview builds off of the previous one. When I was left with a few unanswered questions after the first interview, they were answered in the second interview. While each interviewee has their own niche and way to run their private money business, you have the advantage of weighing the pros and cons of all three approaches and creating a hybrid that is a perfect fit for your personality and real estate goals.

I highly recommend these interviews for anyone who wants to do deals. It doesn't matter if you have money or not, because let's face it, the more money you have access to, the more deals you can do, and the more deals you do, the faster you will achieve your goals and dreams!"

Chris Walter
Mechanicsburg, PA


"To be honest with you, I really did not know the difference between hard money and private money...All three speakers had great tips, lessons learned, and resourceful ways to (attract) investors.

Alan's lunch auction and John's video to lenders friend were imaginative ideas...Alan did explain the SEC rules and wanted to make sure you protected yourself.

Patrick Riddle blew me away; he really got into your head."He sales without selling". I really think if I had met him on the street, I would be begging him take my money. He had you thinking that you were going to miss out on something special and there were limited opportunities.

"Don't let you stop you" - I am putting this on my wall."

Michael Kieke
Leander, TX


"I wanted to learn more about obtaining private money. So the course by Patrick Riddle appealed to me greatly. I have listened to all the courses by Patrick and also the bonus courses and learned lots.

The explanations from Patrick were simple and well thought out, the demonstration of how to find lenders in the private sector was fantastic. I am used to the large money lenders(who right now are very nervous) so this was really valuable advice. I have already looked at other states for private money lenders and I am heading down to our city Recorder?s Office to do the same thing here. My list of Private money lenders keeps growing!

The topics on the SEC rules was great! Alan Cowgill was great! He made things easy to understand and his caring attitude toward the people he dealt with was moving. His life changing moments were very inspirational. He clearly explained how the SEC protects people from crooks and how I must communicate with future investors. I now understand what I can say to future private lenders and not get in trouble with the SEC. I have already set up letters using Patrick's template that allows me to contact prospective lenders.

I am a broker and deal in large properties, this information is allowing me to tap into a market I really have not thought about and provide a means to generate more revenue. Thanks again."

Todd Hill
San Diego, CA


"Just recently I purchased Private Money Interviews. I believe it was some money very well spent. This interview package is an excellent resource for the necessary information, methods of networking with lenders and establishing an ongoing source of funds beyond following the rules of hard money lenders dominating your deals. I found these interviews extremely useful."

Steve Mueller
Cudahy, WI

Yes, I Want These Interviews Now